STRAVA AND SUNDAYS INSURANCE
Project
The design, build and launch of Strava Connect and Sundays Insurance in three regions (US, UK, and the US) offering free insurance perks to Strava premium members with the ability to purchase insurance policies online.
Rapid application development, lowering cost and time to market.
Enabling a niche fintech organisation to partner and compete at a global scale.
About Sundays Insurance
Sundays Insurance is the leading provider of cyclist and bicycle insurance, and Strava's official insurance partner. A small and driven organisation, Sundays Insurance utilises technology and data to seek opportunity and improve connection to their customers.
Aligning technology, design and data to compete at scale
For Sundays Insurance, the opportunity to partner with Strava, offering bicycle insurance and perks to their customers, proved transformational. Partnering with a tier one online business brought it owns challenges, namely scale, expertise and time. Sundays Insurance contracted the team to deliver the project in full, design, technology and marketing.
"We were under time pressure and needed a scalable and innovative platform to be delivered in under three months to meet our deadline. We also required it to be a data platform, to gain inference and be central to the ongoing development of products, while bringing us closer to the customer. The team was selected to help us design and build this critical initiative."

- Theo Grobler, CEO, Sundays Insurance
The team started the project delivering the brand, identity and logos with the name Sundays Insurance created as it envokes freedom, performance and the pure pleasure of riding a bicycle. A passionate name, reflecting the modern rider.
The Google Cloud Platform was selected as the Cloud provider, providing the team with the competitive edge. With rapid development, deployment and data capability, fostering innovation.
"Container Engine and Cloud Datastore allow for massively horizontally scalable architecture, critical when providing a service to Strava's large customer base. AS near real-time data warehouse with BigQuery, DataFlow and Pub/Sub the foundation of our analytics efforts."

- Jim Watts
Data driven innovation
The dataset captured from athletes in BigQuery, is extensive and details. Sundays Insurance is able to draw conclusions about our customers, in order for us to develop better products, and market to efficiently market to segments, increasing conversions and increase marketing ROI.
"With the existing dataset and the help of the team, Sundays Insurance has recognised the need for a specific Athlete health insurance product, rewarding healthy people through the potential of lower premiums. We are committed with the team to deliver this product to market by Q1 2018"

- Theo Grobler, CEO, Sundays Insurance
Getting closer to the customer with data
The team was engaged in building a statistical model, based on buying habits and Strava data to predict the likelihood of purchasing insurance.
DELIVERABLES

Branding, Design, Engineering, Website Design, Website Development

WHAT THEY SAY

"The team allowed our business to quickly develop and launch innovative insurance products onto the world market. The advanced data platform forms the foundation for insight-driven innovation and marketing.

Theo Grobler, CEO, Sundays Insurance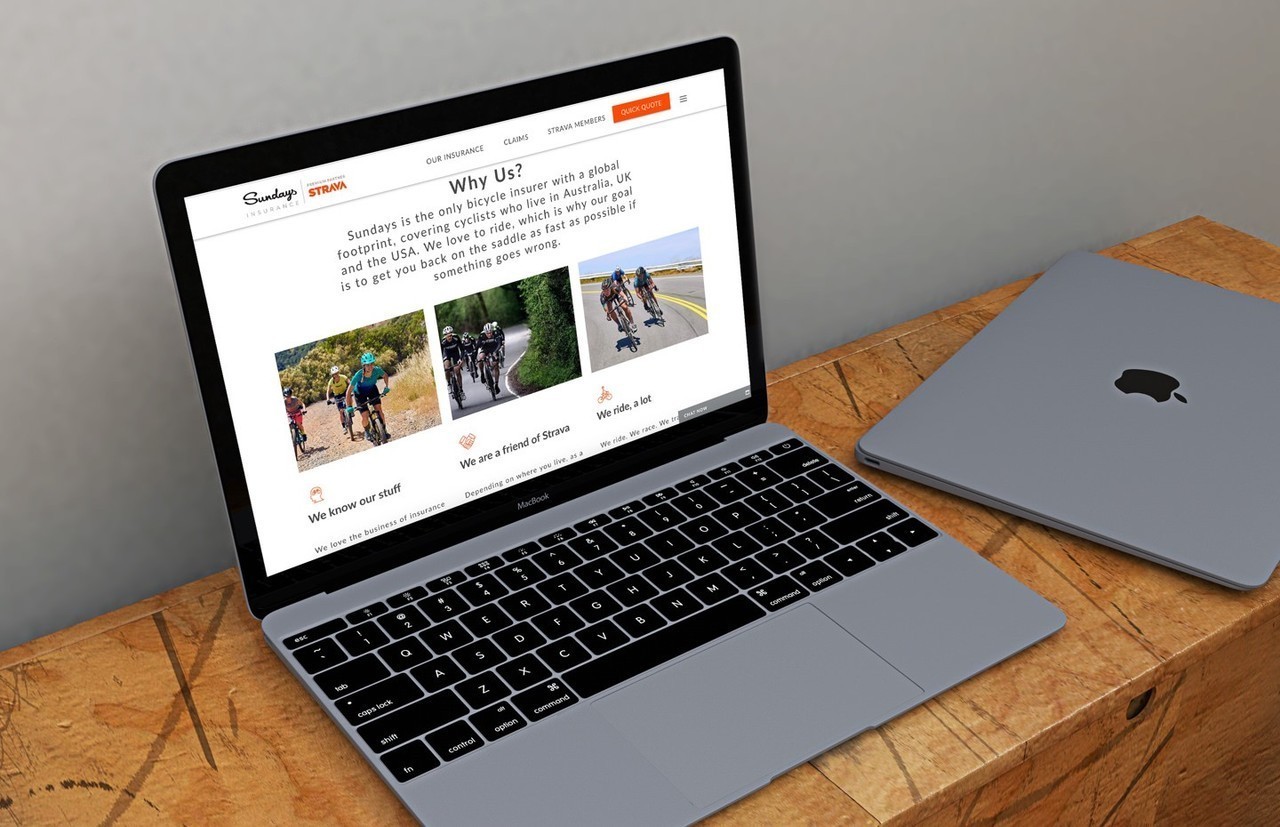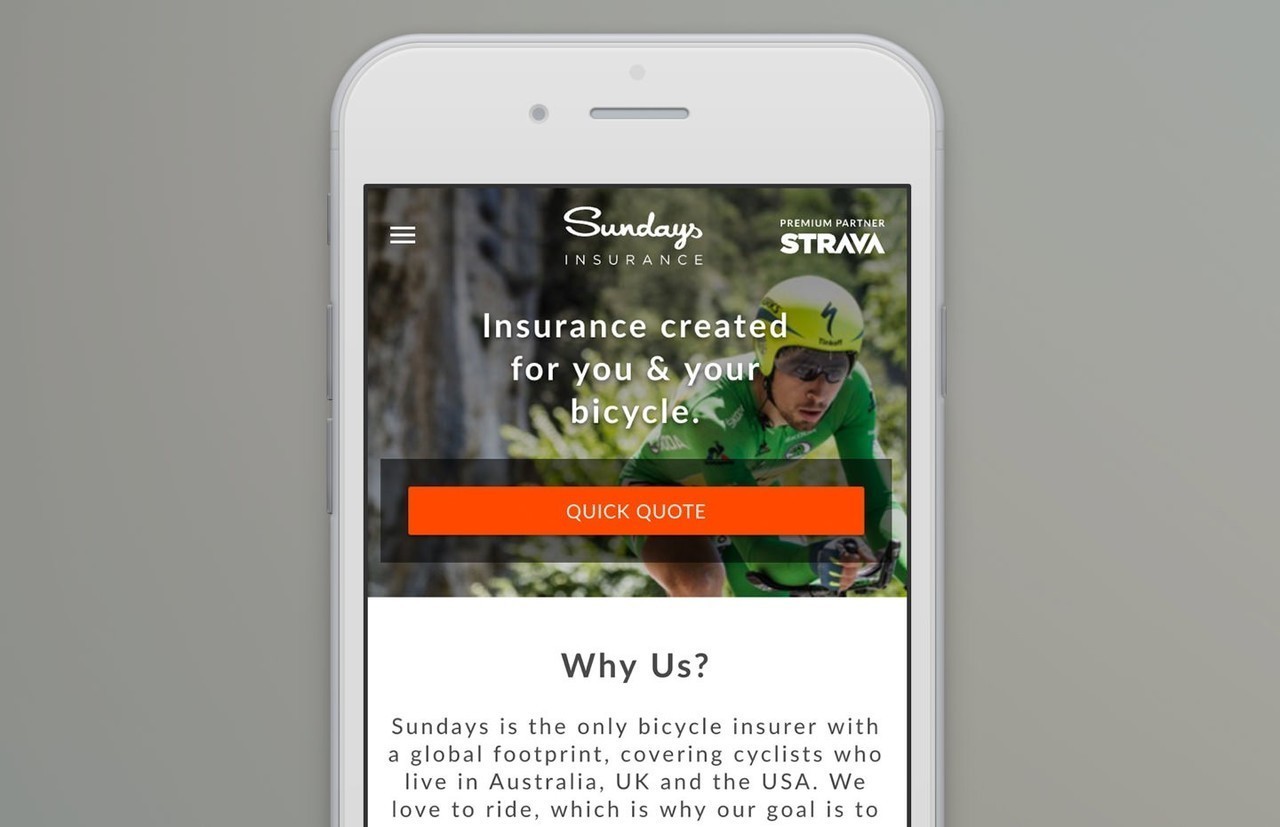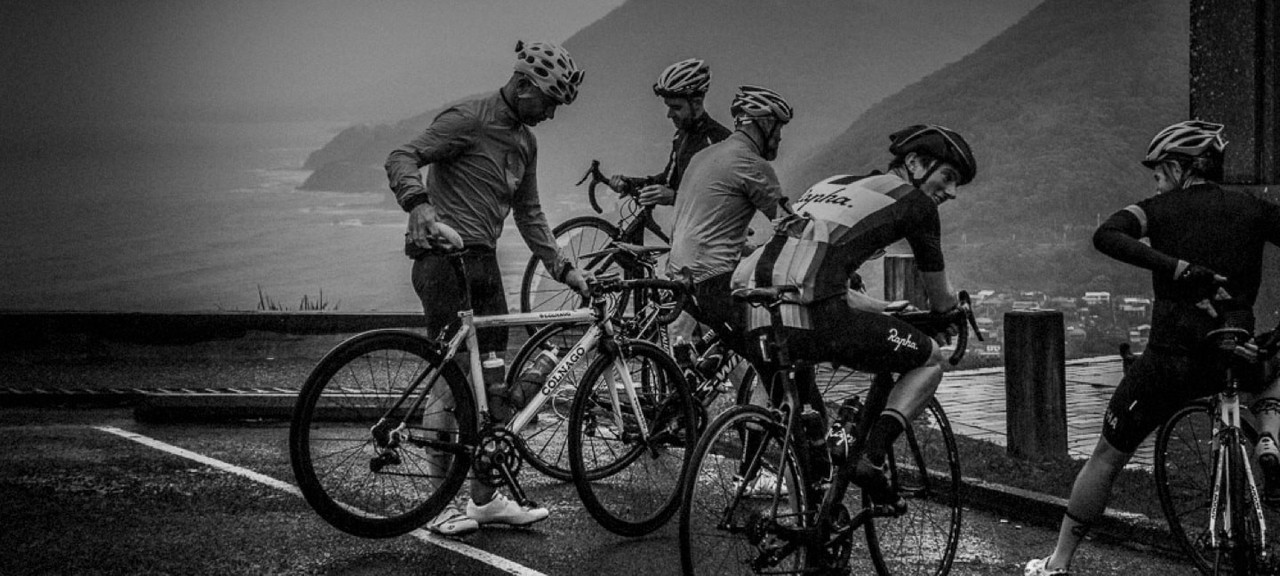 Work
We design and build technology product and platforms that understand the needs and behaviour of people so that your business or brand can genuinely engage with them.
ALL

ADVERTISING

APP-DESIGN

APP-DEVELOPMENT

BRANDING

DESIGN

EDITORIAL

ENGINEERING

MARKETING

PACKAGING-DESIGN

SHOPIFY-CUSTOM-DESIGN

SOCIAL-MEDIA

TECHNOLOGY

WAYFINDING

WEBSITE-DESIGN

WEBSITE-DEVELOPMENT